07-Aug-2021, 10:36
Hi there,
Please help.
The sources on my companion don't seem to be working.
Not sure what i am doing wrong.
I have both links hooked up.
Looks like this
[/url]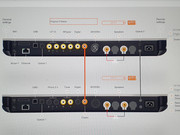 [/img]
Help Please
Music Room:
Devialet ODA, Vivid Audio G2 Series 2, Linn LP 12, Hercules, Ekos Ortofon Cadenza Blue, Achromat, Dewaudio Starmap and Startrail, Magnum Dynalab Tuner, Theta Transport, Kimber KS 2120 Digital, VD Hul Suernova. 
Roon'd for life, Tidal.
Bedroom: Devialet D Premier, Pass Labs XA 30.5, Sonus Faber Olympica III, Fully Funked LP 12, with Funk Kdrive motor, Dynvector Dv20xl.
Johannesburg,
South Africa.